WHAT'S NEW!
RIVERSYDE 83
They say "teamwork makes the dream work," and our volunteers are working together and working hard with the interior demolition at 83 Sydenham Street in downtown Simcoe.  So exciting!  Looking forward to being up and running later this fall.
CHAMBER OF COMMERCE – 2018 OUTSTANDING COMMUNITY SERVICE AWARD
Church Out Serving was recognized for the services we offer to our community.  The Simcoe and District Chamber of Commerce honoured COS with the 2018 Outstanding Community Service Award at their annual awards gala held at The Greens of Renton.  We are so appreciative of this honour, and received it on behalf of our volunteers who give and serve to make the work we do happen!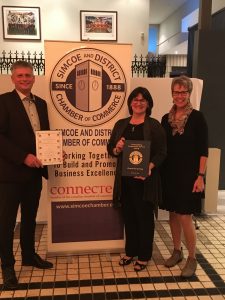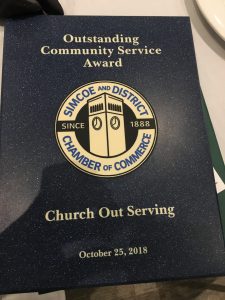 Here is a link to the video that was shared at the Awards Evening:
https://www.facebook.com/simcoechamber/videos/1915338498774617/
LAUNDRY MATTERS
Clean clothes are a basic need that we believe everyone should have.  Afer the last of 4 local laundromats closed, this need became our concern.
LAUNDRY MATTERS opened in August 2018 and is located at 69 Norfolk St. South in downtown Simcoe.  Hours of operation are from 7:00am to 8:00pm daily.  It's a community laundromat – for-people, not-for-profit.
Neighbours caring for neighbours.  Because laundry matters.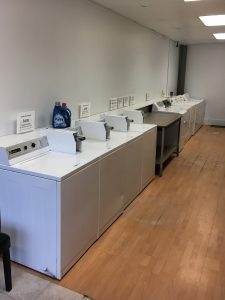 https://www.facebook.com/laundrymatterscommunitylaundromatsimcoe/
SERVING OPPORTUNITIES
GENERAL – Fill in a volunteer application, to let us know your skills, interests and availability.  It's available here:  Volunteer Application.  Send it in by email to churchoutserving@gmail.com today.
RIVERSYDE 83 – If you have a trade or general labour skill to offer in our "community-style-build" renovations, please email us and let us know!
EMAIL PRAYER CHAIN – If you would like to join us in praying for our community and the things we do, let us know by sending an email to cosprayerteam@gmail.com.
LIKE OUR FACEBOOK PAGE – to learn about serving opportunities as they happen.  Stay in the know or be inspired by our posts and updates – and let your Simcoe and area friends know, because we're all about neighbours!
OTHER ACTIVITIES
NORFOLK COUNTY FAIR – Warmest thanks to our 34 awesome volunteers who served at the Evergreen Hill Drive-In admission gate, when fairgoers from far and wide came to enjoy the Norfolk County Fair last fall.  It was such a fun way to serve our community – filling 93 shifts and almost 345 hours over 7 days.  The Fair generously provides a stipend that helps to fund several of our charitable activities throughout the year.  Here's some pics!