WHAT'S NEW AND EXCITING!
RIVERSYDE 83
They say "teamwork makes the dream work," and our volunteer construction team has been working together and working hard at the renovations at 83 Sydenham Street in downtown Simcoe.  Mechanical, electrical, plumbing, framing, floor grinding, deck painting, and nearing the finishing of drywall install, alot of mudding and taping, and starting  to paint…  Over 12,000  onsite hours!  The pandemic has certainly affected our work flow, but we are getting there…  Have you see our two new exterior murals?  The new brick colour?  The patio designs?  Come on over for a drive-by!  And stay tuned for more updates!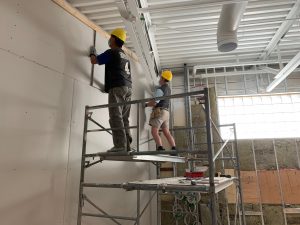 CHAMBER OF COMMERCE – OUTSTANDING COMMUNITY SERVICE AWARD
Church Out Serving was recognized for the services we offer to our community by the Simcoe and District Chamber of Commerce.  We received the Outstanding Community Service Award on behalf of our volunteers and donors who give and serve to make the work we do happen!  We are still so appreciative of this honour.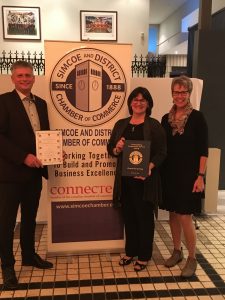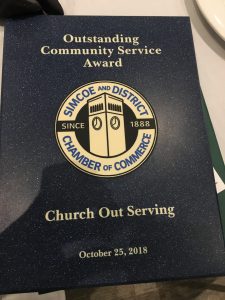 Here is a link to the video that was shared at the Awards Evening:
https://www.facebook.com/simcoechamber/videos/1915338498774617/
COVID 19 EMERGENCY FOOD RESPONSE
Church Out Serving is part of the Haldimand-Norfolk Emergency Response Team, offering the service of our food projects and volunteers to help meet the needs of neighbours who are experiencing an increase in food insecurity during the Covid-19 pandemic.  Fresh take-out dinners, frozen hearty meals, food hampers and delivery are making a difference to housebound seniors and people with medical concerns who are isolating, those with financial or other hardships, and students/families who were part of the Student Nutrition Program during the schoolyear.  To find out more, call the Norfolk County Covid Hotline at 519-426-6170 ext 3793.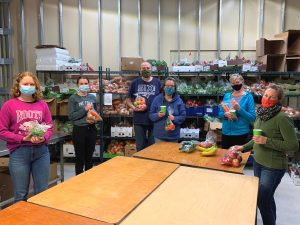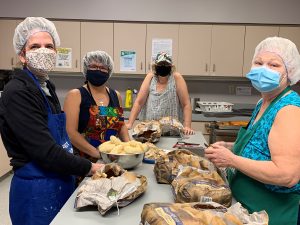 SERVING OPPORTUNITIES!
GENERAL – Fill in a volunteer application, to let us know your skills, interests and availability.  It's available here:  Volunteer Application.  Send it in by email to churchoutserving@gmail.com today.
RIVERSYDE 83 – If you have a trade or general labour skill to offer in our "community-style-build" renovations, please email us and let us know!
EMAIL PRAYER CHAIN – If you would like to join us in praying for our community and the things we do, let us know by sending an email to cosprayerteam@gmail.com.
COVID PRAYER RESPONSE – If you would like to join us in praying for the pandemic and how it is affecting our community and our world, we will send you our daily email.  Please let us know by sending an email to cosprayerteam@gmail.com.
GIVING OPPORTUNITIES!   Please click on the red DONATE button above.
RIVERSYDE 83 – The renovations inside the building housing our new community food hub are nearing completion.  And our fundraising efforts are at 83% of our target.  Your gift toward the last 17% will help us to finish in the black!  Be part of this exciting new downtown destination already now!  Be part of the dream to make it happen.
COVID 19 – If you are looking for way to help with our Emergency Food Response initiatives, but cannot volunteer at this time, donations to cover food costs would be gratefully received.
GENERAL – If you would like to give a gift to our COS cause and invite us to apply it to where it would be most beneficial, then feel free to leave your gift undesignated.
LIKE OUR FACEBOOK PAGE!
Learn about serving opportunities as they happen.  Stay in the know or be inspired by our posts and updates – and let your Simcoe and area friends know, because we're all about neighbours!  We love where we live!