RIVERSYDE 83
Riversyde 83 will soon be a local, community destination.  It is located at 83 Sydenham Street in downtown Simcoe, on the Lynn River, next to the county trail system, with lots of free parking.
We live in Ontario's Garden, and we are excited to provide our community with a "food playground," exploring old and new ways of the pleasures of food.  As Ryan Rivard, one of our local chefs has said, "Food – good food – feeds our souls.  It nourishes us.  It inspires conversation.  It's a catalyst for connection with others.  Amazing things happen over a heartfelt meal."  We are about to open a community teaching kitchen, stainless commercial kitchen, trendy cafe, foods marketplace, and meeting spaces.
The renovations are complete, save for the finishing touches.  Our amazing dedicated volunteers have committed an incredible 18,000 onsite hours and the results are stunning.  We are also fundraising for the renovation costs, with a huge dream of meeting our target and opening with them all paid for!  Can you help?
We are very excited to become a new downtown Simcoe hotspot, and anticipate welcoming our neighbours into this awesome community space!
Check out the "We are Hiring" page for details of the new position that we are accepting applications for:  Cafe Front-of House Manager.  The successful candidate will work together with our Chef and Food Skills Workshop Manager.
Riversyde 83 … a gathering place, where food, friends, and wellbeing converge.
THE WARMING CENTER
The Warming Center offers our most vulnerable neighbours a safe place to sleep.  Located at the corner of Young and Talbot Sts in downtown Simcoe in a spacious space within First Baptist Church, the center is open every night, to guests who arrive between 8-11pm, from January to April.  Equipped with 20 quality cots with medical grade mattresses, guests will be welcomed by staff, volunteers and security, and enjoy a warm bed and a hearty meal.  By 7:30am, guests will leave with some continental breakfast items.  This project has been made possible with the help of our caring community, specifically for our citizens who find themselves homeless during the cold winter months.
DONATION STATION
Donation Station receives gently-used furniture, appliances, kitchen basics and children/baby items to share with those who cannot afford to purchase these living necessities.  Items we collect include fridges, stoves, washers, dryers, microwaves, televisions, couches, lamps, tables, chairs, beds, bedding, dishes, cutlery, pots and pans, toasters, kettles, blenders, kids clothing.
​If you have an item to donate, email or call to let us know.  All donations must be gently-used, clean, from smoke-free homes, and in good working condition. (Please note that items not repurposed after a reasonable time may be sold/used to support COS projects in other ways.)
Care workers are able to place an order for a client via a "Wish List" for these household items.  ​For children's clothing and other kids' items including shoes, winter wear or sporting goods, please use our "Children's Wish List" form.  All requests must be made through a referring agency.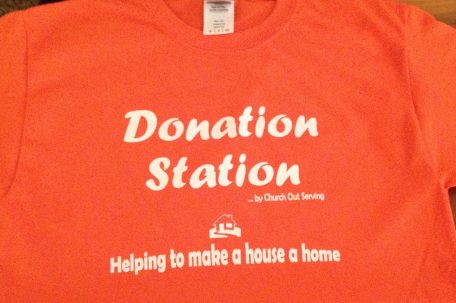 FIRST SERVING DINNERS
​First Serving Dinners is a community meal that is served at lunchtime, on Mondays and Fridays between 11am and 12noon.  Eat-in or take-out service available.  Come to First Baptist Church, corner of Talbot and Young Streets, across from Talbot Gardens in Simcoe.  We would love to serve you!  All meals are free of charge. 
CELEBRATE RECOVERY
(This program is temporarily paused – stay tuned.)
Celebrate Recovery is an international Christ-centered support program that helps people rise above life's hurts, habits and hang-ups.  Through teachings, stories and sharing, they learn about, apply and celebrate Gods healing power, turning despair and struggle into freedom and victory.
Websites:  www.celebraterecovery.ca   www.celebraterecovery.com
If you are looking for someone to talk to, our CR leaders are available by phone if needed – please call Ernie or Mary at 519-443-8870.  If you would like to receive a daily email encouragement, sign up at celebraterecoverysimcoe@gmail.com.
For more information about our program, here's our CR Simcoe Brochure.  If you, or someone you care about, is looking for hope or peace in life, please do connect with us.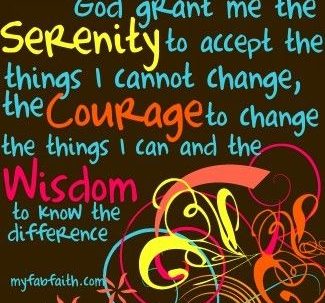 THE GATHERING FOOD GARDENS
The Gathering Food Gardens is a community-building food-security initiative.  We gather together to grow produce for our neighbours who have limited access to fresh, healthy food.  The harvests supply local meal programs, teaching kitchens, and food banks.
Our 27 garden beds are located at 5 sites currently:  Indwell-Hambleton Hall, Unilever-Simcoe, Evergreen Church, Old Windham United Church, Calvary Church and at Riversyde 83.  The 16 varieties of vegetables are grown pesticide-free and watered by drip irrigation, and our latest season's harvest has yielded a whopping 21,862 vegetable servings.  Thanks to Scotts Canada, RONA Simcoe and Gintec Shade Technologies for their community spirit and generous support of our gardens.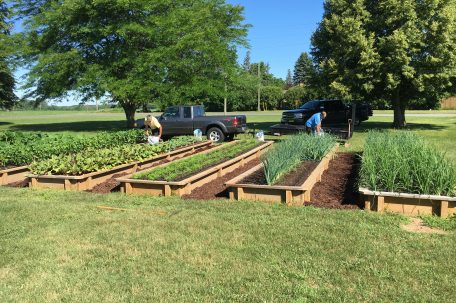 FROZEN MEAL PROGRAM
Our Frozen Meal Program prepares and preserves healthy meals for people who are unable to cook for themselves and their families, due to homelessness or other life crisis.  Meals can be delivered to clients' homes, if required.  Requests must be made through a referring agency.
Additionally, for neighbours who are living with food insecurity, the "Food in Norfolk – Emergency and Low Cost Support" brochure lists emergency food services, meal programs, community gardens, community kitchens, and nutrition programs.  Church Out Serving works with the Haldimand Norfolk Health Unit in updating and printing this brochure annually.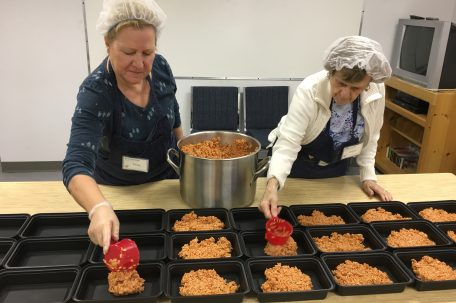 H2O PRAYER
H2O (Hearts to the One) is the name of our prayer project.  Prayer is a foundational component of all that we do at Church Out Serving, and we consider it a privilege to pray about concerns in our community and in our world.  There are currently two opportunities for involvement:  an Email Prayer Chain is sent out 1x a month with current prayer concerns, and a Prayer Response to Covid-19 which is a daily email activity.
If you are interested in participating in either of these opportunities, please send an email to cosprayerteam@gmail.com.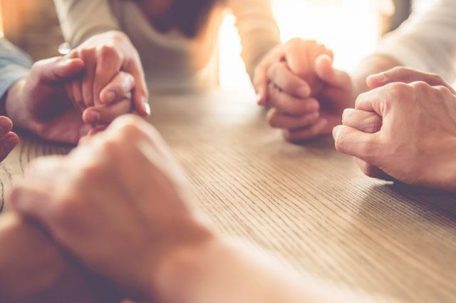 WE BELIEVE IN SIMCOE
(We have been unable to host this event due to the Covid-19 pandemic)
We Believe in Simcoe is our large community blessing project, held annually in the spring.  It is a two-part festival, with events held on two consecutive weekends.  The May 2019 festivities will be our 9th undertaking.
The Activity Fair is a free event planned especially for our "neighbours-with-need," whether it be due to financial, mental or other life crisis, and is by invitation.  It is an afternoon filled with "shopping," services, entertainment and refreshments.  Alongside our Cafe and Restaurant, there are several stores and shops to browse, the Hair Salon and Spa offer new hairstyles and shoulder massages, and our Portrait Studio offers a profressional sitting.  There's games to play and prizes to win.  Gift baskets and treasures are given away by draws.  And there's a mini trade-show area where local resources are displayed.  Over 200 volunteers serve our special guests.  Some of our volunteers also visit elderly citizens at local nursing homes, while others pick up trash along our downtown streets and walking trails.  
The Fireworks Celebration is a free event to which all of our neighbours across the County are welcome.  Folks come with family or friends, and lawn chairs or blankets to enjoy the evening.  Children's inflatables and games, carnival food, music bands, a trivia contest with prizes, and "the very best fireworks ever" put this event on everyone's calendar every year.
WHEN IS THAT AGAIN?
When is that again? Click here to find out!!  ​On our Events Calendar, you will see a variety of events that we believe are of general interest to all.
Find out WHAT is happening WHEN, and WHERE … events like meetings, concerts, programs, seminars, dinners and more … offered by churches and faith groups in the Simcoe ON area … This website also highlights some of our community goings-on too.  Love promoting our community, and where we live.  There's lots of things to do.
If you would like us to share your event, please send an email churchoutserving@gmail.com.